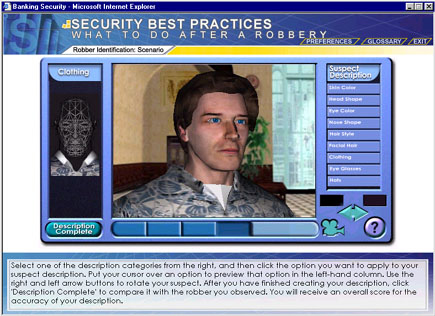 Project: Security Best Practices: What to Do After A Robbery
Role: Instructional Designer/Developer
Year completed: 2010
Software/languages used: HTML, CSS, Director Shockwave, W3D, Photoshop
Description: Developed scenario where the learner is presented with a randomly created 3D robber in a realtime video scene, one of several hundreds possibilities. After the robbery scenario is played out the learner is presented with a program to compile characteristics of the robber into an 3 dimensional ID sketch. This sketch is then compared to the photo of the real robber and scored.  By allowing repeat testing the learner can hone skills in remembering the characteristics that are key in the ID process.
Client: Impact Education Inc.
We needed to develop a lesson that would prepare learners with the scenario of a bank robbery and to prepare them for Identifying the robber aftwards.
Solution: I