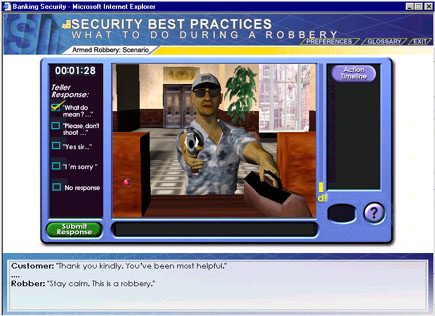 Project: Security Best Practices: Robbery with a gun
Role: Instructional Designer/Developer
Year completed: 2005
Software/languages used: HTML, CSS, Shockwave3d, Photoshop, 3D Studio Max
Description:
We needed to develop a lesson that would prepare learners for a certified inspection of a banking facility prior to opening.
Solution: I developed 3D scenario where the learner is presented with a randomly created virtual robbery with changing interactive 3D robbers .The goal is to get the robber out of the bank as quickly as possible. Most robberies that last longer than 2 minutes become lethal. The branching decision tree is affected by the learner response and time .
Client: Impact Education Inc.